By Jim Williams 2/21/17 ……Climate change or as I like to call it "Global warming" is trending more ominous for the future of our earth. The sea level rise threat is growing and we are seeing weather extremes on the increase world wide. When it comes to hurricanes there are differing opinions from increased wind shear keeping storms weaker in contrast to storms being bigger and stronger. According to Dr. Ryan N. Maue of Weatherbell Global accumulated cyclone energy values were up just slightly from the sum average in 2016 and the same goes for the Atlantic Basin.
The next question is are we going to see more hurricanes as a result of global warming? The National Hurricane Center's (HURDAT2) database over the years has actually added named storms that were previously unknown mostly out over the open waters. Despite the additions it does appear that the over all count is slightly increasing especially majors in the Atlantic basin especially since 1995.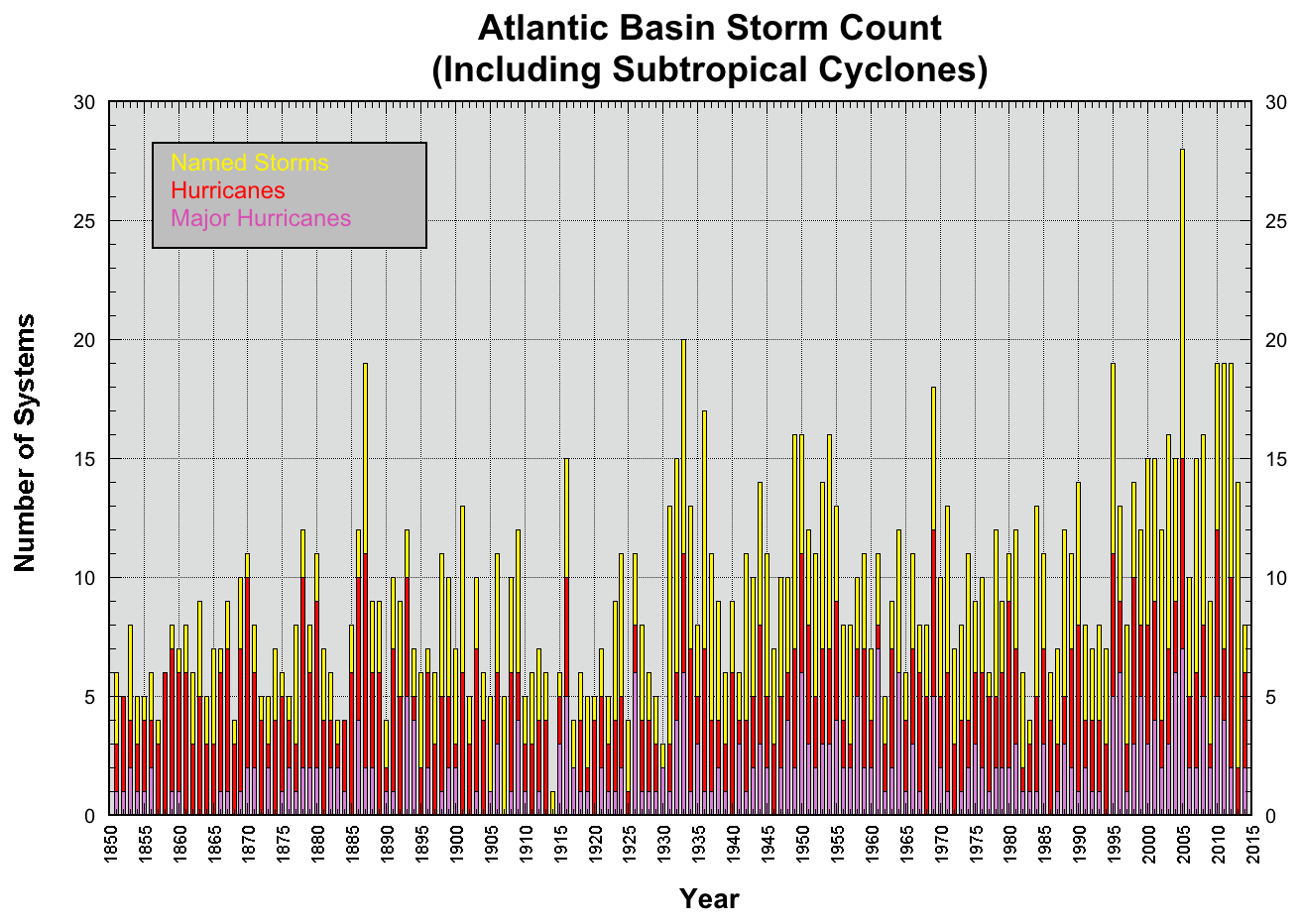 Probably the most difficult question is when did global warming start? CO2 as well as increased Methane have been on the rise since according to historic ice core samples but have really taken off since the 1950s. A really handy tool to use can be found on NOAA's National centers for environmental information where you can choose your state or region to see how temperatures have increased since 1895. After choosing the Atlantic coastal states one by one I have come to the conclusion that temps have steadily increased since 1975 using the month of most hurricane activity in the basin September. The graph below shows both land & sea temps in September globally on the increase so how will the tropics respond in the Atlantic basin?

The most important question is how many named storms will make landfall impacting lives of some people who otherwise could care less about global warming. This is where I like to take the statistics a step further by taking my 152 locations in the HC city Database down to the city level or looking through a microscope. For arguments sake I will use the year 1975 as the (start) of global warming in reference to examining land falling systems in the Atlantic basin. I am using six spread out locations vulnerable to hurricanes to make my point. Data includes all tropical storms, Hurricanes brushes and hits (inc extrop). Starting with Galveston,Texas from 1871 to 1974 had an average return rate of every 2.73 years for a named storm. From 1975 to 2016 unchanged at 2.73.

New Orleans has seen a slight increase in the frequency of named storms 1871 to 1974 at every 2.31 years compared to 1975 through 2016 at 2.27 years between storms.
Miami has had the opposite happen more named storms from 1871 to 1974 return rate of every 1.79 years compared to 1975 to 2016 at every 2.73 years.
Using the most affected area in the Atlantic basin Cape Hatteras also shows a slight decrease in brushes & hits from named storms before 1975 at 1.30 years to a greater gap between storms since 1975 of 1.52 years.
Using the most populated center in the U.S NYC including all of Long Island from 1871 to 1974 had a return rate of every 2.53 years compared to 1974 through 2016 every 3.41 years.
Lets examine St Johns ,Newfoundland in the far northern Atlantic basin. Here a dramatic increase going from a return rate of every 3.85 before 1974 and from 1975 to 2016 an amazing accelerating return rate of every 1.95 includes extratropical systems.
Just to make sure these numbers are correct I decided to check on the area furthest south & east of the U.S vulnerable to named storms. The island of Saint Martin too has seen a decrease in named storms since 1975 of every 3.41 years compared to 2.60 years prior to 1975. I even decided to calculate the numbers starting at 1995 taking into consideration the recent upward trend in activity of the Atlantic basin and the numbers show a much quicker return rate for Cape Hatteras and Long Island. A conclusion to my findings indicate an increase of tropical activity from 30 degrees north since 1995 with a decrease in activity further south. Why are the northern locations being hit more frequently while south locations are being affected less? I will leave this to the highly educated experts that can explain more frequent landfalls further north. Maybe this is just a recent trend but regardless of these numbers global warming has caused an increase in sea level rise and with a trend of more intense hurricanes puts all of these areas in grave danger from storm surge……….Jim WIlliams